These baseball lineup templates are a must have for any youth coach! Print, fill them out, and post them in the dugout for your players. They will appreciate knowing their positions and rotations for each game.
Printable Baseball Lineup Sheets
This printable baseball lineup sheet is great for youth teams who bat most of their lineup.
It has spots for twelve hitters in the lineup.
You can also keep score on the line score section of the sheet.
Print and post it in your dugout for the game.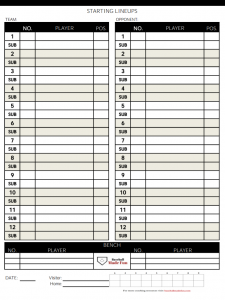 Youth Printable Lineup Sheet PDF
Defensive Lineup Alignment
Click and print the template below. It can be used for younger teams, or for teams who would like to get players work at multiple positions.
Use this template to control and monitor every players playing time at certain positions.
If you have a plan before the game, it is much easier to ensure that your players are getting time at the positions that you want them to.
Post them in your dugout before the game so that every player knows where they will be playing throughout the game, and hey, that's one less thing you'll have to think about during the game!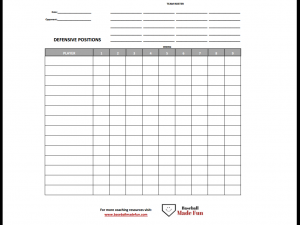 Defensive Lineup Alignment PDF

Baseball Positions Diagram
Remembering the positions on the field, and especially the numbers and abbreviations that correspond, can be tricky for young players when they are first starting out in the game.
Use our baseball positions diagram PDF to teach them the correct numbers that correspond with each position.
Print it out and post it in the dugout for each game or practice and tell your players to go to their position by the number.
You can even write their names in by the position they are playing. It won't be long before they have those numbers memorized!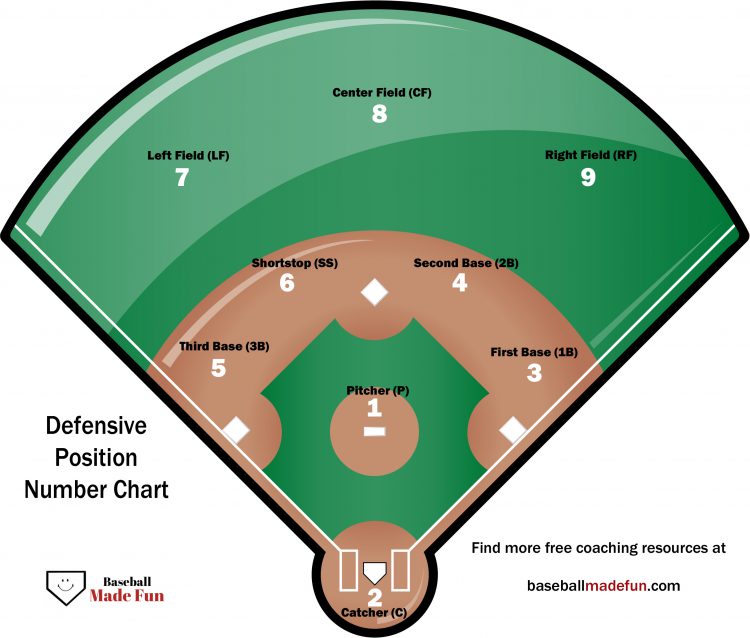 Baseball Positions Diagram PDF