Baseball is 90% mental, and the other half is physical.

– Yogi Berra
Hitting mechanics are being over analyzed and over-coached everywhere you look these days, but how much are you seeing and hearing the mental approach to hitting the baseball being discussed?
Are your youth, high school, or college coaches dedicating enough time to this important aspect of the game?
My guess is probably not. No need to worry though, there is a program out there that can help! It's called Quality At-Bats, by Steve Springer.
I first heard of Steve Springer when I was invited to watch him speak at a local high school. I did some quick research and learned about the Quality At-Bats website. My interest was already piqued at that point, but as I dug deeper and found out that he serves as the Toronto Blue Jays mental skills coach, there was no way I was going to miss a chance to hear what he had to say!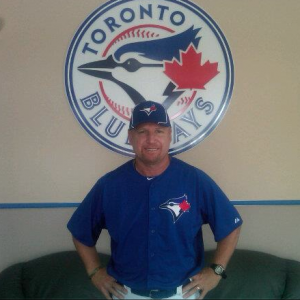 I came to the talk with an open mind and a notebook, ready to pick up any golden nuggets of information Steve might pass along. I ended up with about 4 pages of notes from his hour-long talk. Shortly after the talk began, I decided that I should write down all that I could and keep it in a place that I could continue to go back and review from time to time.
Some of Steve's message was brand new to me. Ideas I'd never heard or thought about as a player. Other ideas in his message were the same or similar to what I'd been taught in the past by college or pro coaches or managers. The difference about Quality At-Bats is that Steve bundles it all so well. He really has created a simple, neat, cohesive message about the mental game of baseball. Quality At-Bats is simple enough for youth players to understand, but contains information that would be beneficial to players at every age and skill level, all they way up to the big leagues.
With all the internet hitting "gurus" arguing over the mechanics of the baseball swing today, it's refreshing to see someone online who spends more of his time dedicated to the mental game. It's often said that hitting in baseball is the most difficult task in all of sports. With a task so difficult, it only makes sense to study the thought process that fuels the game's best hitters.
Trial Offer
Right now you can try out the Quality At-Bats Academy for only $1.
For Only a Buck, Here's What You'll Get:
Feedback on YOUR swing from Steve Springer
Over 30 Videos of Advanced Hitting Tutorials & Footage
Baseball I.Q. Mental Training
Access to Monthly Interviews with Top College and Pro Coaches
Bat Speed Blueprint (Videos and PDF)
Interviews with Pro Players and Scouts
Hitting Whisperer – Mental Hitting Talks
Quality At-Bats Hitting Chart (PDF)
Live with Spring Q&A (Live phone calls with Steve Springer)
New Material and Resources Added on a Regular Basis!
[cta_link link="http://c6196o4-gro2xo2nylsgs5wv8v.hop.clickbank.net/" color="blue" ] Start Your $1 Trial With Quality At Bats[/cta_link]