If you have a Tee Ball player or Little Leaguer at home, like I do, then you know most are just beginning to learn how to catch a baseball. Kids 10 and under have minimal grip strength and dexterity with their non-dominant hand. Add the weight and awkwardness of a glove, and it can get ugly sometimes! 
For tips and drills for teaching your beginner to catch a baseball, you can read our article on the subject here.
The best baseball gloves for kids who are just beginning their baseball journey are the light-weight, flexible youth models that, lucky for you, are cheaper than most other gloves. At the bottom of this article, we'll recommend some youth gloves that hold up well in spite of their light-weight designs. 
What to look for when choosing a glove for kids up to age 10:
Easy to break in – Breaking in a baseball glove can be a lengthy process. Sometimes an adult glove may need to be worked and caught with for months before it is pliable enough for an adult to close. A good youth glove should break in quickly with minimal effort. 

Light-weight 

– Heavy gloves can be difficult to control for youth players. Their hand-eye coordination is still developing, and extra weight can make it tougher to sync the hands and eyes up. 

Easy to close 

– Ideally a youth glove should be very pliable. With much less grip strength than an adult, a kid will struggle to close even the most "broke in" adult gloves. The more flexible and easier closing the better.

Smaller hand opening and finger holes 

– Smaller hands will move around inside of an adult sized glove. A good youth glove will have a more of a snug fit, and even better yet, a velcro strap for added size customization.

Minimal maintenance required 

– The more laces a glove has, the better the chance one will come untied, loosening the glove and causing issues for the user. Choose youth gloves that have fewer laces for less maintenance. 
---
Best Baseball Gloves for Kids 10 & Under
---
We've done the homework and searched through online reviews and forums and found a few of the best models out there. Any one of the models listed below fit the criteria above. You can be confident your baseball player will be happy with these selections. Based on reviews, these selections should have the durability to hold up for at least a couple youth baseball seasons.
---
Mizuno Prospect Series Gloves
Our #1 recommended glove for the Little League or rec baseball player.
Available in many different colors and designs.
Multiple sizes available from 9 – 11.5 inches
Power Close technology for easier closing and catching.
Power Lock Wrist strap for simple and secure fit.
Browse models and sizes at Baseball Plus Store starting at $24.95
Browse models and sizes on Amazon, starting at $20.11
---
Rawlings Prodigy Series Gloves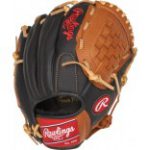 Our #1 recommended glove for the youth travel baseball player, those playing year round, or on multiple teams.
Comes 90% broke in.
Multiple sizes available from 10.75 – 12 inches.
Offers a more "professional" look, with smaller finger holes and lower hand backing for youth fit.
All leather shell constructed to maintain shape and durability in spite of easy break in.
[cta_btn color="success" size="" link="http://shrsl.com/ucj8″ ]Browse models and sizes at Baseball Plus Store, starting at $34.95[/cta_btn]
[cta_btn color="warning" size="" link="http://amzn.to/2GgxWFR" ]Browse available models and sizes at Amazon, starting at $43.91 + free shipping[/cta_btn]
---
Rawlings Players Youth Glove Series
Our #1 Recommended Glove for the tee ball age and younger.
Comes 100% broke in and game ready straight from the factory!
The velcro hand strap offers more of a custom fit for players' hands.
Comes from one of the most trusted name brands in the game, and is the most affordable selection on our list.
[cta_btn color="success" size="" link="http://shrsl.com/ufre" ]Browse color choices at Baseball Plus Store, $15.95[/cta_btn]
[cta_btn color="warning" size="" link="http://amzn.to/2pw4oum" ]Browse color choices on Amazon, $19.99[/cta_btn]